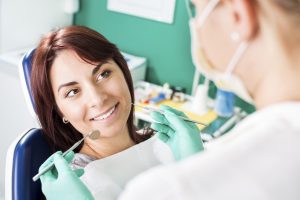 Can you believe Thanksgiving, Christmas and the New Year are practically upon us? There's so much to do—grocery shopping, cooking, gift shopping, work, school and then more shopping and more cooking. The last thing you need to make time for now is a dental emergency. And while some emergencies are truly unavoidable, many others really are avoidable if you simply maintain your regularly scheduled dental checkup. Now is the not the time to put off an appointment with Dr. McIntosh at Distinguished Dental, the family dentist Keller, TX, depends on for year-round oral health.

At your twice yearly dental checkups, Dr. McIntosh and her staff of dental hygienists and assistants clean and polish your teeth, so you have a bright smile. But beyond that, we are on the lookout for problems. We carefully examine your teeth and gums for any indications of concern. In this way, dentistry is very much a proactive endeavor. If we can spot a problem early, we can treat sooner rather than later and help you avoid a bigger problem that may result in an emergency.
For example, when caught early tooth decay is easily and highly treatable with a tooth colored filling. In just one visit, your tooth will be restored to health and function. If left untreated for a long time—as when patients delay and delay dental checkups—that decay can spread and lead to any number of troubles, including an infected tooth that needs root canal therapy. At this point, treatment may indeed be an emergency because of the pain of an infected tooth. A root canal is an intense procedure that requires Dr. McIntosh to access the interior pulp chamber and root canals of a tooth in order to clear the infection and disinfect the tooth. Once this portion of a root canal is completed, you'll need to return for a second appointment where we'll attach a crown to protect the tooth from further damage. Not exactly the kind of activity most people plan for the holidays.
Preventive Care with the Dentist Keller Trusts
Children require regular dental checkups, too. At these appointments, Dr. McIntosh may recommend dental sealants or fluoride treatments, which both go a long way toward helping your kids battle the bacteria that cause tooth decay. And if any of your kids enjoy sports, then you know the days off during winter break are a perfect time to play, play, play. Make sure your children's teeth are protected with custom-fitted mouthguards, an essential piece of sports equipment.
Call Our Office Today for a Dental Checkup
If you or a family member is due for a dental checkup at Distinguished Dental in Keller, TX, then contact us. The appointment you make today may be the emergency you avoid tomorrow. We welcome patients from surrounding areas including Roanoke, Trophy Club, Haltom City, Fort Worth, Westlake, and Southlake.