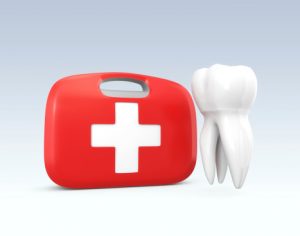 Never say never, but when was the last time you had an emergency happen at a convenient time? We agree with you—never! Of course, some times are less convenient than others when it comes to handling an emergency. Like the holiday season, for example. You're busy shopping, cooking, planning parties, going to parties and generally enjoying the season. Why now? We can't answer that question, but we can help you deal with a dental emergency that happens during your Christmas or New Year celebration. Your Keller emergency dentist, Dr. Sheri McIntosh, and the team at Distinguished Dental are ready and willing to treat your emergency and get you back in the swing of the season as quickly as possible.

Emergency Treatment with the Keller Dentist
Whether it's a Christmas cookie, a candy apple or the fruit cake, holiday foods just seem to cause dental crowns to fall out. If you have a porcelain crown that comes off of your tooth this holiday season, the first thing you should do is take the crown out of your mouth. You don't want to accidentally swallow or inhale the crown.
Then, call the Keller dentist office immediately at 817-337-8300. We'll schedule an appointment as soon as possible for Dr. McIntosh to cement your crown back into place. When you call our office, we'll be able to tell you if it's all right to use temporary cement to put the crown back on your tooth. If the answer is yes, then gently clean the crown and your tooth with a toothbrush and make sure both are dry before using the temporary cement. This is much weaker than the permanent cement Dr. McIntosh will use, so try to avoid chewing on sticky foods.
Another common dental emergency during the holiday season is traumatic injury. Sometimes the kids are horsing around in the house, other times you innocently bite into the bread pudding and hear an ominous crack—whatever the reason, a chipped, cracked or fractured tooth may need urgent care. Until you can get to our office, the following steps can be helpful:
Rinse your mouth with lukewarm water
If the injury causes swelling, use a cold compress on the site
To alleviate discomfort, an over-the-counter pain reliever should suffice
If you're dealing with an avulsed or knocked out tooth, call our office immediately. Saving the tooth may be possible if we can see you within 30 minutes of your injury.
Call the Keller Dentist for Your Emergency
If you experience any of the emergencies discussed above, or anything else that you suspect may need urgent dental care, then call Distinguished Dental in Keller, TX. We welcome patients from surrounding areas including Roanoke, Trophy Club, Haltom City, Fort Worth, Westlake, and Southlake.