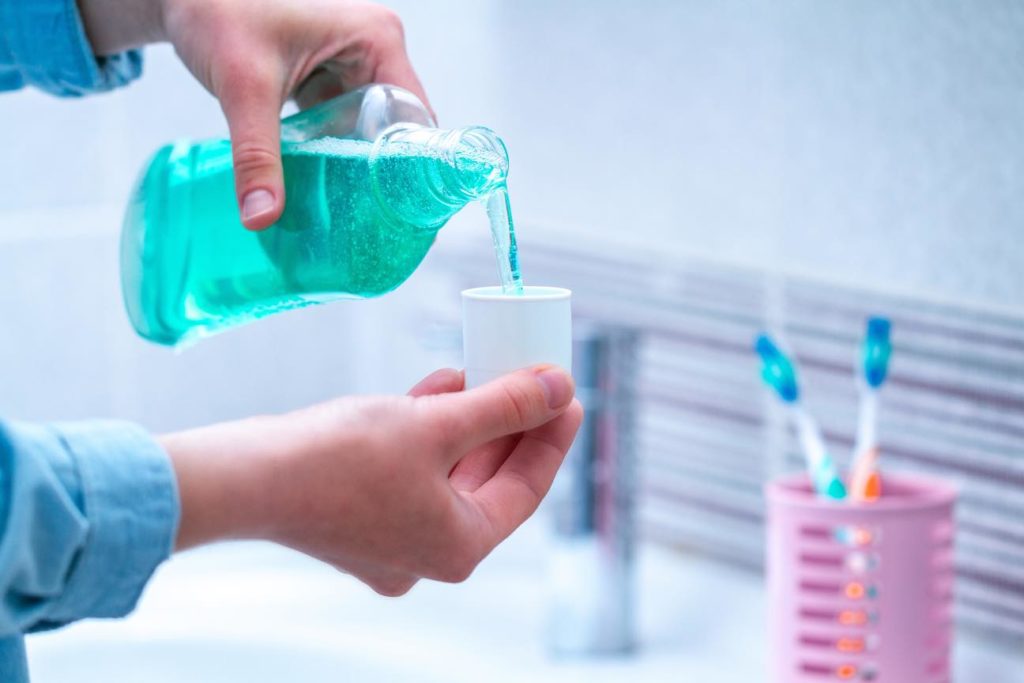 Since the COVID-19 pandemic began, just about every aspect of life looks different, including dental care. Along with many new safety measures such as social distancing, additional personal protective equipment (PPE), and hand hygiene for patients, your dentist will likely ask you to rinse with mouthwash before your appointment as well. But what's the purpose behind a pre-procedural rinse, and how does it work to keep you safe? Keep reading to find out!
Why Is Your Dentist Asking You To Rinse Before Your Appointment?
COVID-19 is primarily spread through respiratory droplets from the mouth and throat. Since the saliva of an infected person contains the virus, an antimicrobial, pre-procedural rinse can potentially reduce the amount of the virus present in the air when they talk and breathe during their dental appointment.
While studies aren't conclusive and more research is being done, one recent study found that rinses containing peroxide can "damage" the virus in a way that makes it harmless. Two options you can rinse with are Listerine Whitening and Peroxyl, both of which contain 1.5% peroxide (the minimum amount that's needed to be effective is 0.5%). To be as effective as possible, your dentist will likely ask you to swish for a full seconds 60 seconds at the start of your visit.
It's also important to note that alcohol-based rinses aren't effective in the same way alcohol-based hand sanitizers are because they don't contain the same high percentage of alcohol.
When used in combination with other safety measures recommended by the CDC, ADA, and OSHA, a pre-procedural rinse is a great way to lower the risk of COVID-19 for patients, staff, and dentists.
Additional Measures Dentists Are Using To Prevent the Spread of COVID-19
Being asked to rinse with peroxide prior to treatment isn't the only change you'll see at your next dental appointment. Here are just some of the other protocols that have been implemented:
Social distancing measures such as virtual waiting rooms, seeing fewer patients at once, and staggered scheduling. 
If someone accompanies you to your appointment, they'll be asked to wait in the car (with the exception of parents or guardians of children or dependents).
Being asked to wash your hands or use sanitizer when you arrive. 
Pre-screening that includes having your temperature taken and answering questions about your recent physical health and activities. 
Personal protective equipment (PPE) for patients, including a face mask or cloth face covering when they're not being treated, as well as additional PPE for staff. 
The same strict cleanliness, sanitation, and sterilization procedures that have always been used.  
Researchers are working around the clock to learn the best way to combat the COVID-19 virus. Rinsing with antimicrobial mouthwash before your dental appointment is just one of the many ways to prevent the spread and keep you safe.
About the Author
Dr. Sheri McIntosh is a family dentist with over a decade of experience. She and her team are following CDC, OSHA, and ADA guidelines so they can provide care as safely as possible, including asking patients to rinse with a peroxide mouthwash prior to their procedures. If you'd like more information about her enhanced safety protocols during the pandemic or have any questions, she can be reached via her website.