Dental Implants – Fort Worth, TX
An Innovative Tooth Replacement Solution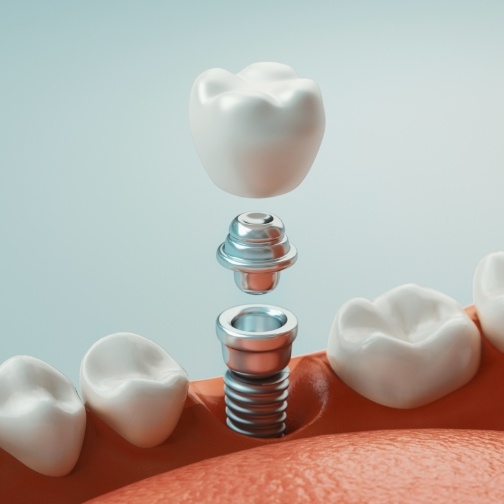 Technology has changed many aspects of our daily life. From the way we make phone calls to the way we shop, almost everything can be done more easily thanks to technological advancements. This is also true of advanced dentistry services like dental implants, which have completely changed the way we replace missing teeth. Compared to other tooth replacements, dental implants in Fort Worth look more lifelike, feel more natural, and last much longer. To find out how you can benefit from dental implants, contact Distinguished Dental today!
Why Choose Distinguished Dental for Dental Implants?
Dental Implants Placed & Restored in One Location
Latest Dental Technology Used
Convenient, Affordable Dental Financing Available
What Are Dental Implants?
Dental implants are an innovative tooth replacement solution. This treatment is unique in that it brings back both the root and crown of missing teeth. Traditional tooth replacements like fixed bridges and dentures only restore the crown, or part of the tooth visible above the gum line, leaving patients without the necessary dental support and stimulation they need to maintain the optimal level of oral health.
The implant itself is a small titanium cylinder that replicates the root of a lost tooth. Once it's surgically placed below the gums and into the jaw, it merges with the surrounding bone and tissue via a process called osseointegration. Then, your implant dentist in Fort Worth can install a metal abutment fixture that will allow us to place a dental crown, bridge, or denture on top in order to complete your smile.
Learn More About the Parts of a Dental Implant
The Dental Implant Process
Since dental implants are a highly customizable process, a lot of planning goes into the procedure to ensure the most successful treatment outcome possible. This includes detailed exams of your mouth and jaw, the creation of personalized restorations, and routine follow-ups to monitor the implant's healing. Our office always breaks down the procedure step-by-step ahead of time so you can know exactly what to expect as you undergo your tooth replacement. You can read about this process in more detail below!
Benefits of Dental Implants
As the only tooth replacement option to reconstruct every portion of lost teeth, dental implants are often considered the gold standard of tooth loss treatment. They essentially fulfill all of the functions that natural teeth do, allowing them to improve your confidence, health, and overall quality of life in ways that conventional dentures and dental bridges simply cannot. Below, you can read more about the benefits of dental implants in Fort Worth and how they can transform your life in ways you never thought were possible!
Who Dental Implants Can Help
Before beginning any tooth replacement plan, the Distinguished Dental team will schedule a dental implant consultation. Because each patient is unique, we'll review your oral health and past medical and dental history to make sure dental implants are right for you. With that in mind, know that dental implants can restore your smile no matter how many teeth you're missing.
Understanding the Cost of Dental Implants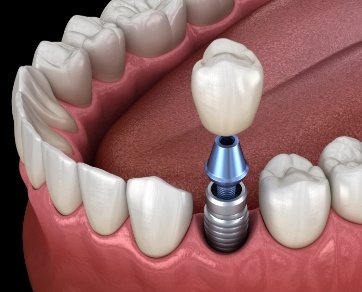 When it comes to paying for your dental implants, it's important to remember that seeing a trusted professional and ensuring only the best materials are used will increase your chances of enjoying a healthier, more beautiful smile for years to come. This worthwhile investment not only positively impacts your oral health, but it can also make a significant difference in your confidence, quality of life, and overall health and wellbeing. There are many factors we must consider before formulating a cost estimate for your treatment, which is why a consultation is necessary. Below are just a few key factors you can expect to be incorporated into your overall cost of dental implants.
Dental Implant FAQs
Dental implants in Fort Worth are a lifelong commitment to replace missing teeth. It's normal to have several concerns before you're ready to invest in them. We will explain everything during your dental implant consultation to feel confident in the decision you are making for your smile. Here are the answers to a few frequently asked questions to ease any apprehensions until your appointment.
Dental Implant Post-Op Instructions
Once your dental implants are placed, you'll need time to allow them to heal. During this recovery process, you don't have a lot to worry about. The overwhelming majority of people complete it without any trouble. Of course, you'll still want to take note of certain post-op instructions recommended by our office and common side effects that can develop. If you ever notice intense or abnormal pain as well as other strange side effects that aren't mentioned below, please give us a call right away.