Teeth Whitening – Keller, TX
Upgrade Your Smile Quickly With Teeth Whitening
If you've started to notice that your smile is fading or discoloring over time, you should know you're not alone. It's quite common for our teeth to lose their luster as we age, and different lifestyle choices we make can also accelerate the process. The good news is that there are affective cosmetic dental solutions for brightening your smile, and they may not be as complicated or expensive as you think.
Teeth whitening in Keller, TX is an effective and affordable way to upgrade your smile quickly. Our cosmetic dentistry profssional offers two convenient options for whitening your teeth that are designed to accommodate your lifestyle and budget and can deliver the results you want quickly.
How Does Teeth Whitening Work?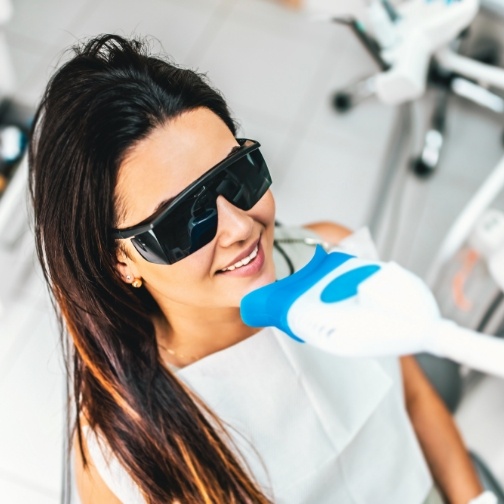 Behind the tough outer layer of enamel that covers your teeth lies a softer layer called dentin. Staining and discoloration can take place within both these layers of your teeth, and products like whitening toothpastes or mouth rinses can't reach the dentin layer of your teeth.
Whitening gel contains either carbamide peroxide or hydrogen peroxide, which is an active ingredient that can reach both your enamel and dentin layer and breakdown the molecules that are discoloring your teeth. The result is whiter, brighter smile!
In-Office Whitening Treatment
Dr. McIntosh offers an in-office teeth whitening procedure that typically takes around two hours and delivers immediate results. She starts by placing a protective barrier around your gums and soft tissues to isolate your teeth, then a high strength whitening gel is applied. A special light is used to boost the whitening gel and achieve optimum results. We'll finish with a fluoride treatment designed to help reduce any sensitivity that the whitening gel might cause.
In-office whitening is effective and ideal for patients looking for fast results due to an upcoming event or a hectic schedule.
Take-Home Whitening Trays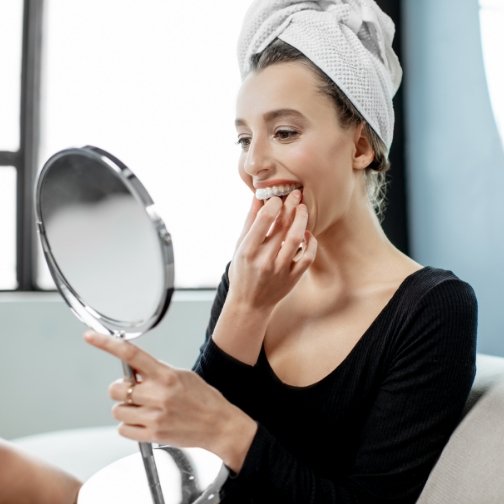 Take-home whitening is great for patients who would rather whiten their teeth at home at their leisure or update their smile down the road after completing in-office whitening.
We will create custom whitening trays and provide whitening gel that you can use at home based on your schedule. Most patients achieve their desired results in about two weeks, though many people start to see differences after a couple of days.
Which Option Is Right for My Needs?
If you are considering whitening for your smile, we encourage you to contact our Keller dental office for more information. Dr. McIntosh is also happy to discuss your options with to help you determine which treatment will best suit your needs. Call us at (817) 993-4208 today to learn more.