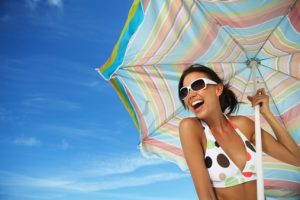 Summer is officially here and you know what that means…everyone and their dog is about to go on summer break. School is out and families everywhere are taking advantage of the time off by traveling all over the world. We love vacations and take them all of the time, but we also know how important it is to keep your oral health in peak condition throughout these next few months. Temptation will be everywhere in the form of food and other tasty goodies. We're not saying you shouldn't eat them, just be aware of the impact they may make if you have too much. It's all in moderation, as we say. We recommend scheduling a checkup first so you can enjoy the remaining months worry-free. Our office in Keller, TX wants you to know that this is one of the most joyous times of year for families because there is no school. But, before the school year ramps back up and now that vacation-mode is officially turned on, it's time to take care of your teeth.

Get Your Regular Checkup Today So You Don't Have Problems Tomorrow
Did you know that the American Dental Association recommends that everyone receive two checkups a year? It's the safest and surest way to keep your teeth looking and feeling great. A general checkup involves us going in and taking a good, hard look at each tooth. A cleaning will be necessary, so that will follow. This gives us a good idea of what is going on in your mouth that you may not see. There could be cavities in their infancy that we can spot early. There's all sorts of bacteria that swims through your mouth everyday, so keeping a close eye on what it's doing will help us prevent further damage.
After a checkup, it may be recommended that you return for additional treatment. That's where our other dentistry services come in handy. Below is a complete list of our services:
Dentures
Partials
Crowns and bridges
Tooth-colored fillings
Root canals
Wisdom tooth extractions
Teeth grinding
Teeth whitening
Dental implants
and much more
Basically, anything that your mouth needs you're sure to find the proper treatment at our office. There isn't a challenge we can't overcome. When you partner with us, you'll see the difference we make in our patient's oral health.
Schedule Your General Checkup
Don't lift off until you've seen us. A general checkup can keep your mouth clean wherever you go and for a few months so you won't have to worry about it while you're on vacation. Anyone in the Keller, TX area is invited to see us, especially residents in Roanoke, Fort Worth, Haltom City, Southlake, Westlake, Colleyville and beyond.