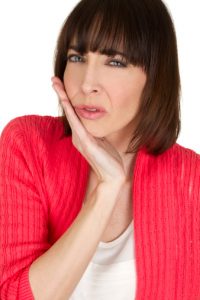 Ouch! The pain of toothache is not something to be taken lightly. And while a toothache may start out mild, make no mistake—it can quickly escalate to severe. That's why Dr. Sheri McIntosh and the team at Distinguished Dental is the emergency dentist Keller, TX, can count on to react immediately when you call to report a toothache.

Sometimes a toothache may be caused by something lodged in between two teeth. If you think this might be causing your tooth pain, then try removing the particle with dental floss or a toothpick. Never use a knife or any other sharp object to remove something caught between your teeth!
If this doesn't relieve the pain, then call our office immediately. You'll speak to one of our staff members who will assess your situation. If necessary, we can schedule a same-day appointment for your emergency.
Why am I having a Toothache?
In some cases, the reason for a toothache is obvious, such as a broken tooth, a cracked tooth or a knocked out a tooth. In other instances, the cause of a toothache may not be visible—such as with an abscessed tooth or gum disease—but that doesn't mean it's not as serious. For example, your toothache may be due to an infection deep inside the tooth. A root canal or endodontic therapy may be necessary. During root canal therapy, Keller dentist Dr. McIntosh will remove all traces of the infection, any accompanying debris and the soft pulp from inside your tooth. Then, your tooth is filled with gutta-percha, a biocompatible substance, and the tooth is sealed. To protect the tooth, we'll place a porcelain crown over it. The crown restores your tooth's form and function.
Sometimes a toothache is the result of injury to a tooth often sustained during a blow to the face or head. Your tooth may be loose, cracked, broken or even knocked out. These kind of injuries often happen during athletic play and can be avoided with the proverbial ounce of prevention: a protective sports guard. Dr. McIntosh can have a custom-fitted sports guard—also called a mouthguard—made just for you. A sports guard protects your teeth, lips, gums and tongue from injury during athletic play and practice. Moreover, recent research shows that wearing a sports guard can also reduce the frequency of concussions or reduce the severity of a concussion if one should occur.
Call Our Office Today
If you are experiencing a toothache, then don't wait another minute. Call our Keller dental office and let Dr. McIntosh determine the best way to treat your toothache or dental emergency. At Distinguished Dental in Keller, TX, we welcome patients from surrounding areas including Roanoke, Trophy Club, Haltom City, Fort Worth, Westlake, and Southlake.