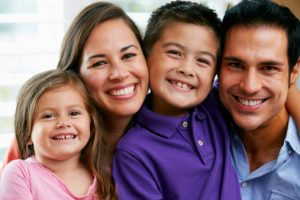 There is so much we take for granted. Even in dentistry, there are things that we practically cannot imagine never having been around. For example, did you know that the first reclining dental chair was not introduced until 1958? That made an enormous impact on the way dentists treated patients. In 1957, the S. S. White Company introduced the first clinically successful high-speed hand piece, which made it possible for teeth to be much more easily and quickly prepared than previously. Today, high-speed handpieces operate at more than 300,000 rpms, or faster than a jet engine. The advances in dental technology continue at a rapid pace. At the Keller dentist, Distinguished Dental in Keller, TX, Dr. Sheri McIntosh and her team offer up-to-date services that are on the cutting edge of technology.

Digital X-Rays
Gone are the days of old-fashioned film x-rays that necessitated more radiation and storage on top of storage to file. Today, the Keller dental office uses digital x-rays, which require you to have less exposure to radiation and are easily stored on a computer hard drive for instant retrieval or sharing with other dental professionals.  And, because no harsh chemicals are needed for film development, digital x-rays are beneficial to the environment. Most importantly, a digital x-ray offers an extremely clear image that gives us a more detailed and in-depth picture of your oral health.
Sedation Dentistry
Years ago if you were afraid of going to the dentist, well then, you were afraid of going to the dentist. There wasn't much your dentist could do to help other than try to talk you out of your fear. Nowadays, however, there's sedation dentistry. Distinguished Dental offers three types of sedation dentistry: nitrous oxide, also known as laughing gas, for mild anxiety; oral conscious sedation for the patient who needs helping relaxing even before arriving at our Keller dental office; and IV sedation for patients with severe anxiety. Dr. McIntosh will recommend the type of sedation that is appropriate for you depending on the degree of your anxiety or fear.
Adult Orthodontics
Traditionally, children had their teeth straightened with metal brackets and wires. But what if you didn't have the opportunity to have braces during childhood, or your teeth have shifted over time and you need some minor alterations to regain your perfect smile? As an adult you may still want straight teeth, but you may not want the look or inconvenience of traditional braces. For these patients, Distinguished Dental has either Invisalign® or Six Month Smiles®. Invisalign, as the name implies, aligns teeth almost invisibly with clear plastic aligners that are arranged in sequence, so your teeth move into position step-by-step. Six Month Smiles uses the same mechanics as traditional orthodontics, but the brackets are tooth colored and the wires are clear, making them barely noticeable.
Call Your Keller Dentist Today
If you would like to know more about the advanced dental technology your Keller general dentistry practice offers patients, then stop by! Or better yet, schedule an appointment for that all-important dental checkup. We welcome patients from surrounding areas including Roanoke, Trophy Club, Haltom City, Fort Worth, Westlake, and Southlake.