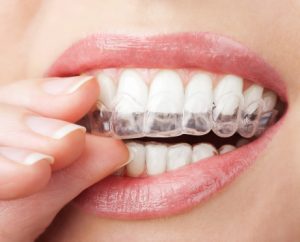 Happy New Year from all of us at Distinguished Dental! We hope 2016 is a year of happy, healthy and beautiful smiles. To help you achieve that smile, we'd like to suggest a New Year's resolution that you may actually be able achieve and possibly complete before 2017 arrives. With Invisalign, you can have a straighter and more attractive smile without the pain and hassle of conventional metal braces.

If you have a misaligned smile, then you're not the only one who knows—everyone who sees you smile, eat or speak sees your crooked teeth. And believe it or not, research shows that a crooked smile can actually impact your social and professional life. Your smile makes an impression, so why not do what you can to have the best smile possible?
Invisalign are the removable clear braces Keller residents rely on to correct not only misaligned teeth, but also a number of orthodontic concerns including a crossbite and overbite. Invisalign straightens teeth with a sequential series of clear plastic aligners that are smooth and comfortable. And while Dr. McIntosh will want you to wear your aligners for at least 22 hours a day in order for the treatment to work most efficiently, you will be able to take them out for those times when you have a special occasion.
Even better, they are removable for meals as well as when you need to brush and floss your teeth. So, you'll be able to enjoy a normal diet including all of the foods that aren't allowed with metal braces like popcorn, chewy candy and carrot sticks. And because you'll be able to continue your normal oral hygiene routine at home, you're less likely to have dental problems during or after your orthodontic treatment.
Getting Invisalign Invisible Braces in Keller
Dr. McIntosh works closely with the Invisalign lab to provide you with customized aligners. Based on impressions, x-rays and photographs, a treatment plan is developed. This plan is what guides the fabrication of your clear braces. Invisalign aligners are arranged in sets—one aligner for your upper arch and one for the lower. You'll wear each set for two weeks and then advance to the next.
As you progress, Dr. McIntosh will want to see you regularly, but there will be no need for adjustments as with traditional braces that have metal brackets and wires. Before you know it—and maybe even before 2017—you'll have a beautifully straight smile.
Six Month Smiles
Another discreet alternative for adult orthodontics is Six Month Smiles. This system operates similarly to traditional braces, but instead of metal brackets and wires, you'll wear clear brackets and tooth-colored wires. Six Month Smiles is designed for people who only need to align the teeth in their smile zone; other teeth and your bite are not treated. That's why you can have a straight smile in about six months.
Call Our Office Today
Make a resolution to have a straight smile before the next New Year. Schedule an appointment to learn more about Invisalign or Six Month Smiles at Distinguished Dental in Keller, TX. We welcome patients from surrounding areas including Roanoke, Trophy Club, Haltom City, Fort Worth, Westlake, and Southlake.