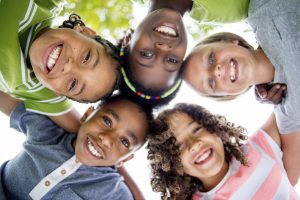 About this time every year, parents' thoughts vacillate back and forth between "too bad, summer is almost over" and "hallelujah, summer is almost over!" Regardless of which side of the debate you fall on, one thing is certain: you should absolutely schedule your children's back-to-school checkup with Fort Worth dentist Dr. McIntosh now. There's still plenty of time to make sure your kids head back to class with a healthy and happy smile.
The Family Dentist in Fort Worth Loves to See Kids
Dr. McIntosh combines dental professionalism with just the right amount of friendliness and fun to make your children's visits to the dentist a pleasant experience any time of year. In addition to making sure your children's mouths are healthy, we also want to instill the desire for lifelong oral health care that begins with happy memories of seeing the dentist during childhood.
Dental Cleaning and Exam
During your children's summer checkup, we'll clean and polish their teeth. We all know that little hands may not have the dexterity—and young children may not have the patience—to thoroughly brush and floss their teeth every morning and night. At a checkup, one of our gentle hygienists will clean each tooth with a special rotating brush and their favorite flavor of fluoride toothpaste. We'll also floss in between their teeth to remove plaque. For children who are more than seven years old, Dr. McIntosh will also check their bite and alignment and recommend a consult with an area orthodontist if necessary.
Fluoride Treatments and Dental Sealants
One of the primary focuses of children's dentistry in Fort Worth is the prevention of tooth decay. Delicious summer snacks such as ice cream and popsicles are loaded with sugar. Oral bacteria feed on this sugar and excrete the acids and toxins that can cause a cavity. To help prevent this from happening, Dr. McIntosh may recommend a fluoride treatment or dental sealants.
Fluoride is a mineral that helps to strengthen enamel, the translucent outer surface of each tooth. Fluoride comes as either a gel or foam and is applied directly to the teeth. After a minute or so, the solution is rinsed away.
Dental sealants, on the other hand, are applied and quickly dried with a curing light to form a solid barrier between teeth and bacteria and acids. Sealants can last for many years. At each checkup, Dr. McIntosh will check to make sure your child's sealants are in place and replace any that are worn or missing.
Call Your Dentist in Fort Worth Today
To schedule dental checkups for your children, contact Distinguished Dental in Fort Worth, TX, today.