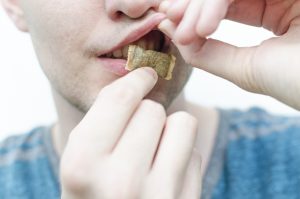 Think you don't know anyone who's had oral cancer? See if you recognize any of these names: Babe Ruth, General Ulysses S. Grant, Sigmund Freud, Rod Stewart, Michael Douglas, George Harrison and Diane Von Furstenberg. For 2016, the American Cancer Society estimates that about 48,330 Americans will be diagnosed with oral or oropharyngeal (throat) cancer, and some 9,570 people will die from these cancers. And while there's no telling for certain, some of these diagnoses and deaths might have been prevented by one simple procedure: an oral cancer screening. At Distinguished Dental, Dr. McIntosh and her staff routinely conduct oral cancer screenings in Fort Worth, TX during dental checkups in order to spot the early warning signs of this otherwise fatal disease.
Oral cancers develop in the soft tissue of your mouth and in your throat. When signs of this cancer are found early, the disease is often treatable and curable. They key, of course, is early detection. When not found soon enough, this cancer may spread to lymph nodes that are located nearby in your neck. So by seeing your dentist in Fort Worth regularly for dental checkups, you are not only ensuring a healthy smile, you are ensuring a healthier you!
The Signs and Symptoms of Oral Cancer
During an oral cancer screening, Fort Worth dentist Dr. McIntosh is looking for certain signs and symptoms. And while we always conduct a screening during your six-month exam, we encourage patients to be on the lookout for these signs in between checkups. They are:
A sore in your mouth or on your lips that doesn't heal after a couple of weeks
A lump or area of thickened tissue in your mouth or neck
Smooth or scaly patches in your mouth that can be either red or white
Inexplicable bleeding in your mouth
A spot in your mouth that feels numb
Pain on swallowing
A sore throat or hoarse voice
Loose teeth or ill-fitting dentures
Avoiding Oral Cancer
Is there anything to be done to avoid oral cancer? Yes, says Fort Worth family dentist Dr. McIntosh. First of all, if you are a smoker, quit. One of the riskiest behaviors in regard to oral cancer is tobacco use. Also, excessive alcohol consumption can increase the risk of oral cancer, as can sun exposure, HPV infection or a family history of cancer.
For Oral Cancer Screening, Call Us Today
To schedule a dental checkup that includes an oral cancer screening, contact Distinguished Dental in Fort Worth, TX.