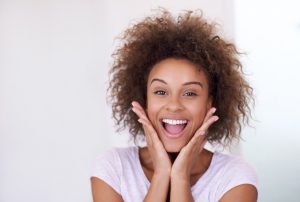 Are you living with misaligned teeth? If so, you are not alone. It is estimated over half of adults are concerned about the appearance of their teeth. With the appearance of the teeth directly impacting your confidence during social and career engagements, you have probably considered orthodontics in the past. However, if you are like most adults, you do not want to have to deal with a lengthy, noticeable treatment. Now, you can straighten your smile with shorter, more discreet options with adult orthodontics in Keller. At Distinguished Dental, we offer the orthodontic treatments you need for a straight smile before summer.

Benefits of Adult Orthodontics
Despite what you may have heard, it is never too late to straighten your smile. Advancements in orthodontics now provide adults with multiple options to straighten their teeth without the use of metal wires and brackets. These advancements provide you with a nearly invisible treatment that will produce the results you want in as little as 6 months.
Your orthodontic treatment will be handled by your dentist, saving you time with added convenience. You will receive the preventive care and orthodontic treatment you need from one dental office. By starting your treatment now, you will have a beautiful straight smile just in time for summer.
Get a New Smile with 6 Month Smiles
We offer the 6 Month Smiles treatment option. This treatment uses clear braces to discreetly move your teeth into their correct positions. The braces apply low and continuous pressure to align your teeth using clear brackets and tooth-colored wires. This treatment is far less noticeable than traditional metal wires and braces so you can smile confidently throughout your treatment. In just 6 months, your teeth will be repositioned for a straight smile.
Enjoy an Invisible Treatment with Invisalign
Invisalign is the most preferred orthodontic treatment for adults. With Invisalign in Keller, no wires or brackets are used. Instead, we create a series of custom-made aligners that are worn over the teeth. The aligners are clear and removable, providing a virtually undetectable treatment that is free from restrictions.
Throughout the course of the treatment, you will wear each tray in the series for about two weeks. You will then switch to the next tray in the series right from your own home, but you will still need to come into our office every few weeks to monitor your treatment. In as little as a year, your teeth will be properly aligned and no one will ever notice you had been undergoing treatment.
Get a Straight Smile Before Summer
If you are tired of living with a less than perfect smile, now is the perfect time to start orthodontic treatments. Over the course of the next few months, you will straighten your teeth using the most preferred orthodontic options for adults. As the summer months approach, you will smile confidently with a straight, new smile.
If you are ready to straighten your smile, contact Distinguished Dental today for a consultation. We will help you achieve a straight smile for summer.