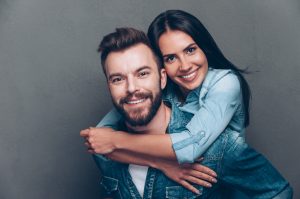 With a new year comes new possibilities! Have you thought about what those might be for your smile? Did you know that one of the quickest and most cost effective ways to upgrade your smile is to whiten your teeth? Distinguished Dental can help you get a whiter, brighter smile in time for your Valentine's Day date with a couple of different options. Here are some of the possibilities for you in 2017!
In-Office Whitening Treatment
At Distinguished Dental, Dr. Sheri McIntosh strives to offer the finest dental procedures and materials for her patients, and this is why our office has chosen the EZ White system for in-office whitening. We've found that EZ White offers better results in less time than many of the other whitening systems out there.
In as little as 30 minutes, EZ Whiten can deliver teeth that are 8 shades lighter than when you started, making it ideal for busy patients seeking immediate results. It's also proven to cause little to no sensitivity or discomfort for patients, which makes it our top choice.
Take-Home Whitening Treatment
Some patients like to whiten at home, based on their own schedule, and Dr. McIntosh can certainly help you achieve the results you desire. We'll start by creating custom whitening trays based on impressions we take of your teeth. After ensuring a proper fit, we'll show you how to use Pola's advanced whitening system safely.
The Pola system releases fluoride to help minimize sensitivity and remineralize your tooth surface. You can discuss with Dr. McIntosh whether whitening for fifteen minutes per day, or overnight works better for your lifestyle, and she'll determine which Pola system is best for your needs.
The biggest benefit to whitening your teeth at home is that you'll be able to update your smile whenever you like. Patients love the results they achieve and the freedom they have with a take-home whitening system.
Contact Distinguished Dental Today
Getting started with whitening is quick and easy, and we can determine which system is right for you when you contact our office. If you're ready for teeth whitening in North Fort Worth, come and discuss the possibilities for your smile with Dr. McIntosh. Your results will deliver the confidence you've always wanted and smile you've always dreamed of!