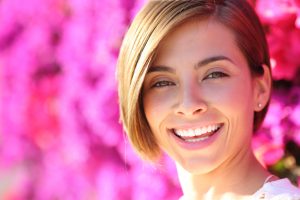 Summer brings with it a host of fun activities such as weddings, graduations, reunions, and lots of family time. There will be many photo opportunities and you'll want to look your best! Besides picking up a new outfit, have you ever considered updating your smile with teeth whitening in Keller? You might be surprised at the huge impact a whiter, brighter smile can make on your overall appearance. Here are some of the options for whitening from your trusted team at Distinguished Dental.
Save Time With In-Office Whitening
Dr. Sheri McIntosh has spent a great deal of time working with different whitening products, and she has determined that EZ White offers the best results for patients with little to no discomfort. After one treatment at our office, you'll notice that you're teeth are several shades lighter than when you started. If your vacation or big event is only days away, EZ White can deliver the results you need immediately!
The Benefits of Take-Home Whitening
Take-home whitening systems offer patients the freedom to whiten their teeth at their leisure, or update their in-office treatment based on their own schedule. We'll take impressions of your teeth so we can create plastic whitening trays that are customized to fit your teeth and protect your gums and soft tissue from injury.
We'll show you how to safely apply the whitening gel to your trays, and you can always purchase additional gel from our office. We suggest that patients whitening for the first time use their trays for about 2 weeks or until they've achieved their desired results. Then you'll have your trays available to whiten your teeth whenever you like.
Why Should I Choose Professional Whitening?
There are many whitening products available at your local grocery store, however there are some benefits to professional whitening you should consider such as:
The whitening gel that Dr. McIntosh has access to is much stronger than what's available over-the-counter. This means less time spent whitening to achieve the results you want.
Our whitening gel is applied safely, and trays are customized for your protection. Generic whitening systems are one-size-fits-all, and may be ill fitting.
It's always advisable to whiten your teeth under the supervision of your dentist in order to protect your soft tissue from injury, and in case you encounter any issues with sensitivity.
Contact Distinguished Dental
Are you ready to update your smile for summer? Give us a call today to learn more about your options for teeth whitening.