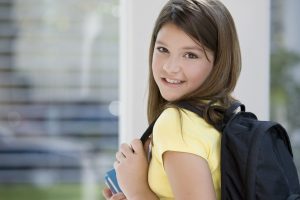 With a new school year right around the corner, you're probably focused on new shoes, backpacks, and school supplies, but this is also a good time to visit your dentist in Keller. Dr. Sheri McIntosh has opened her schedule to accommodate students before summer ends. Here's why you should schedule your child's appointment today and what you can expect.
Why Visit the Dentist Before School Starts? Protect Your Child's Oral Health!
Schedule your child's dental appointment today because you want them to start the school year in good health so you can avoid missed time at school due to dental issues. A toothache can cause severe pain and is a situation that can often be avoided with regular and consistent dental care.
We'll provide a thorough cleaning and examination with Dr. McIntosh at your child's routine visit to ensure that there's no tooth decay or other concerns you should be aware of. Avoid taking additional time out of your child's busy school schedule by scheduling their appointment now.
We may also recommend additional services for your child such as a fluoride treatment or dental sealants. Fluoride helps to strengthen developing teeth, and remineralize a tooth that may be suffering from the early stages of decay.
Dental sealants help to protect the chewing surfaces of your child's teeth with a thin tooth colored coating that keeps acids and bacteria from causing cavities. These services are quick and can likely be completed before school starts as well.
If your child participates in sports, you'll want to discuss the right protective wear with Dr. McIntosh to ensure your child is wearing the best mouth guard for their needs.
Is it Time for Orthodontics?
Achieving a healthy beautiful smile often involves aligning teeth that are crooked or overlap. Dr. McIntosh monitors your child's oral development closely during her examinations and with x-rays periodically. If it looks like they might benefit from orthodontics, or straightening their teeth, she'll let you know and even provide recommendations for trusted providers.
We Wish You an Excellent School Year!
At Distinguished Dental, we're here to be your partners in attaining excellent oral health and in turn, great overall health and well being. We understand that we're an integral part of your child's health care team, and we want them to have the best and most productive school year possible. Give us a call today to schedule their next appointment and we'll see them as soon as possible so they're ready for an excellent school year!