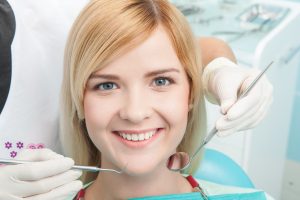 Did you know that you have the power to prevent many dental issues from happening in the first place? It's true! A diligent home care routine combined with routine visits to your dentist every six months can save you from having to deal with issues such as tooth decay, gum disease, and cavities. If you have dental insurance these visits may even be covered. Your dentist in Keller explains.
Dental Insurance and Preventive Care
Most dental insurance plans will cover the cost of two cleaning and checkups with your dentist each year. It is recommended that you visit your dental team every six months, and if there is no out-of-pocket cost to you, it is in your best interest to do so.
If you're not sure what your dental insurance covers, you can contact the treatment or insurance coordinator at your dentist's office for a breakdown of your benefits and an explanation of your out-of-pocket expense.
What Happens at My Preventive Appointment?
There are a number of important things that take place when you visit your dentist for your six-month cleaning and checkup. First, your hygienist will take the time to clean your teeth, which removes the excess plaque buildup that causes issues like gum disease and tooth decay. They may also share helpful tips on how to improve your brushing and flossing routine at home.
Next, your dentist will perform a thorough examination to detect any issues in their earliest stages. Conditions like oral cancer, gum disease, and cavities are best handled early on, and allow you to choose less invasive procedures. This is also a good time to discuss any concerns you may have about your oral health with your dentist, or changes and enhancements you'd like to make to your smile.
Utilizing your dental benefits to visit the dentist every six months saves you time missed from work for major dental procedures that could have been prevented. It also saves you money because being proactive about treatment early on if necessary means utilizing less costly procedures.
Give your dentist a call today to make sure your next appointment is scheduled.
About Distinguished Dental
Are you tired of being rushed through your dental appointments? Do you feel like dentistry shouldn't be one-size-fits-all? If you answered yes, you are ready for the distinguished patient experience!
Dr. Sheri McIntosh and her team practice dentistry with integrity, which means combining state-of-the-art dental technology with old-fashioned values of respect for our patients. This is what sets Distinguished Dental apart from other practices, and we know you'll appreciate the personalized attention you receive when you choose us for your dental care.
To contact Dr. McIntosh, call us at 817-337-8300 or reach us through our website.