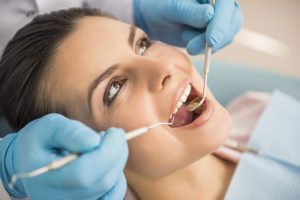 You brush your teeth religiously twice per day. An evening never goes by where you don't floss before bedtime, yet you still get cavities. You find this frustrating and wonder what more you could be doing to protect your teeth from decay? Your family dentist has a solution, and it might just surprise you how easy and affordable it is!
What is a Dental Sealant?
A sealant is a protective coating that is applied to the chewing surfaces of your teeth and molars. Once it is cured it becomes hard and provides a protective barrier from the acids and bacteria that cause tooth decay. Our hygienists notice less tooth decay with patients who have dental sealants.
Dental sealants are tooth colored, so they're not noticeable when you talk or smile. They are also very durable so combined with a good oral hygiene routine, they can potentially last for around ten years.
Who are Sealants for?
Sealants are recommended for most children to help protect their developing teeth as they improve their brushing and flossing techniques. But sealants aren't just for children.
Adults who are cavity prone may also benefit from having dental sealants placed on their teeth. If you feel like you might benefit from dental sealants, it's a good idea to talk with your dentist in Keller.
What is the Process for Getting a Sealant?
Placing dental sealants is quick, easy, and non-invasive. Your dentist will prepare your tooth and then apply a thin liquid coating to each chewing surface. Once it is cured with a special light, your sealant is hardened.
Depending on how many teeth sealants are recommended for, the procedure can take anywhere from 10 to 45 minutes. In most cases, sealants can be completed with only one appointment.
Dental sealants are a very affordable way to protect your teeth, and many insurance companies offer some coverage for them, especially for children because it is considered a preventive procedure.
If you would like to learn more about dental sealants and if they might be the right treatment for you, contact your family dentist today.
About Distinguished Dental
Would you like to experience dentistry that tailored to your specific needs? Would you enjoy feeling like you're part of a dental family rather than just another patient? Would you prefer to build a relationship with a dentist who truly knows and cares about you? If you answered yes, look no further than Distinguished Dental, as this is the level of service that Dr. Sheri McIntosh and her team provide each and every time you visit.
If you would like to contact Dr. McIntosh, she can be reached by calling 817-337-8300 or through her website.