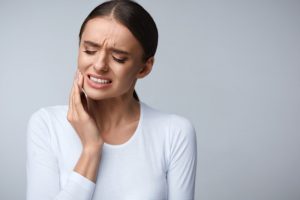 Your tooth is feeling sensitive when you drink your coffee in the morning. This started happening a few weeks back, but it wasn't every day. Now you're noticing it every morning and your tooth even woke you up last night because you felt discomfort. You wonder if it's time to visit your emergency dentist? Is this really an emergency? What are some types of dental emergencies? Read on for some answers!
Dental Pain and Sensitivity
If you are feeling constant dental pain or a toothache that has caused you to lose sleep, it's time to contact your dentist. Severe dental pain is typically an indicator of an infection in your tooth, and unfortunately, dental infections don't go away without treatment. So don't wait to call your dentist thinking that Ibuprofen will help you better.
An infection left untreated can progress and cause more significant problems for your surrounding teeth and could even result in tooth loss.
Swelling
If you notice swelling around your gums or cheek, this could also be telling you that your tooth is abscessed or infected. Swelling causes severe pain and other discomfort, so it's important to contact your dentist right away if you notice it.
A Knocked Out Tooth
This is also an urgent situation in which you should contact your dentist right away. A knocked out tooth only has a small window of time in which it can be saved, so don't delay.
Transporting your tooth carefully to your dentist is critical for trying to save it. Don't handle the tooth too much and hold it by the crown, not the roots when you do. Placing it back into its socket is the best way to transport it. However, you can also use milk to keep the tooth moist if you can't replace it into your mouth.
Other Dental Emergencies
There are other situations such as a chipped tooth or broken dental restoration that may not require immediate attention. However, if you're unsure, it's a good rule of thumb to contact your dentist anyway. They can help to assess your situation over the phone to ensure you get the treatment you need in a timely manner if it's necessary.
A Lost or Broken Restoration
If your dental filling or crown falls out or becomes broken, contact Distinguished Dental to discuss your situation. While it may not need immediate attention, you'll need to restore or replace your restoration in order to protect your tooth from further damage or infection. We're happy to help you assess over the phone if you should be seen the same day.
A Broken or Chipped Tooth
If your tooth is broken, gather as many pieces as you can and contact our office. Dr. McIntosh will determine the best treatment to restore your tooth and get you comfortable again. If your tooth is chipped, give us a call to assess the damage. While you may not need to be seen right away, even a small chip should be smoothed so it doesn't cause irritation to your soft tissues or tongue.
Contact your dentist today if you're feeling any dental pain or sensitivity.
About Distinguished Dental
Dr. Sheri McIntosh has been providing exceptional dental care to patients in Keller, TX for nearly a decade. Her attention to the small details and focus on excellent service makes her the dentist patients in Keller trust.
Distinguished Dental also offers convenient early morning appointments so we can accommodate emergency patients.
If you would like to contact Dr. McIntosh, she can be reached by calling 817-337-8300 or through her website.