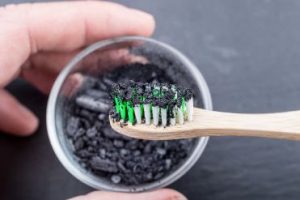 In this day and age, it seems like everyone has a perfectly white smile, along with an opinion about the best way to get one! Charcoal whitening is a recent trend that you may have heard about from a friend or seen online. According to some, it's an easy, at-home method of whitening your teeth that doesn't involve a visit to a cosmetic dentist in Keller. So, does it actually work or is it too good to be true? Keep reading to find out!
Does Charcoal Whitening Work?
Before learning about charcoal whitening, it's helpful to understand the different types of stain first. There are two main categories:
Extrinsic – Extrinsic stain builds up on the outer layer of teeth (enamel). It can usually be removed with anything abrasive, including the professional polishing paste used during dental cleanings, which is mild enough to be safe.
Intrinsic – Intrinsic stain occurs in the deeper, inner layers of the teeth and is what people commonly think of as yellowing or discoloration. Oftentimes, intrinsic discoloration is genetic or simply occurs as part of the aging process.
Anything abrasive, including charcoal, can remove extrinsic stains from things like coffee, tea, red wine, or tobacco. But there are two problems: First, since charcoal is far too abrasive, it can wear away your enamel. In addition to leading to sensitivity and other dental problems, this can make your teeth look more discolored over time as it exposes the darker layer underneath the enamel.
Second, while it may remove extrinsic stains and give your teeth a cleaner appearance, it will not change the color of your teeth from yellow to white. To do that, you must use bleaching agents that can reach the inner layers of the teeth.
What Makes Professional Take-Home Whitening Better?
Professional teeth whitening uses either carbamide peroxide or hydrogen peroxide that penetrates the enamel to break up and remove intrinsic and extrinsic stains. While the FDA limits the strength of over-the-counter products, a professional treatment is strong enough to brighten your teeth by 5-7 shades and also gentle enough to be safe.
You can get started in just 2 visits. Here's how it works:
First, impressions are taken to make custom whitening trays that fit your teeth perfectly.
You'll return to your dentist 1-2 weeks later to pick up your trays, along with a supply of whitening gel. Then you'll wear your trays every day for 30-60 minutes until you get your final results (usually 10-14 days).
As they say, if it sounds too good to be true, it probably is. If you'd like to whiten your teeth in the comfort of your own home and want safe, reliable results, a professional take-home treatment is your best bet!
About the Author
Dr. Sheri McIntosh is a general and cosmetic dentist in Keller and a graduate of the University of Texas Health Science Center at San Antonio. She loves helping her patients feel great about their smiles and always delivers outstanding cosmetic results – safely and reliably. If you're interested in whitening or have any questions, she can be reached via her website form.