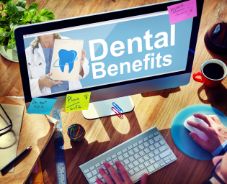 Regular dental care is essential for good oral health, overall quality of life, and self-confidence. And if you have dental insurance, you're in the fortunate position to make your dental visits affordable. But you may be surprised at how many people fail to use their insurance benefits each year. In addition to neglecting their dental health, they also miss out on what could be called "free money" from their insurance company. In this blog, you'll read some interesting dental insurance statistics, learn why regular preventive care is so important, and find out how to avoid missing out on your benefits. Find out more below!
Importance of Preventive Care
There are multiple good reasons to get regular checkups and cleanings. First, they're almost always covered at 100% (although some insurance plans cover them at 80%) so they'll cost you little to nothing out of your own pocket. Second, they're one of the most important things you can do to prevent major dental problems and emergency situations. These visits also maintain your existing dental work and help it last longer.
Perhaps most importantly, checkups and cleanings go a long way towards preventing or managing gum disease. This common condition affects 50% of all adults and is the leading cause of tooth loss. It's also been shown to increase the risk for heart disease, stroke, diabetes, Alzheimer's, pregnancy complications, and even some cancers.
Statistics About Dental Insurance
An estimated 23% of Americans (about 74 million) don't have dental insurance.
There are over 2 million visits to the emergency room for dental treatment each year, mostly from people who don't have insurance and aren't getting routine care.
The American Dental Association found that the average annual insurance benefit is $1,250 per person, but that most people only use around $323. That results in a loss of over $900 each year, per person.
Dental insurance is geared more towards prevention, while medical insurance is designed to treat unexpected accidents and illnesses after they've occurred.
Don't Miss Out On Your Insurance Benefits
Life is busy for just about everyone these days and it's easy to let the year slip past without scheduling your dental appointments. However, it's well worth it to make these visits a priority! First, you'll be getting the care you need to maintain good oral health.
Second, you'll also avoid letting your insurance benefits go to waste. The average annual maximum (the amount of money your insurance will pay for your dental care each year) is $1,000-$3,000. It just makes good financial sense to take advantage of it.
Your first step is to double check when your plan begins and ends. Most start January 1st and end December 31st, but some operate on a fiscal calendar year. From there, schedule a checkup with a dentist as soon as possible. If it turns out that you need any additional treatment, you'll have time to schedule it before your plan expires.
Remember, not everyone is lucky enough to have dental insurance. You may as well use it to have a healthy smile and save a significant amount of money at the same time!
About the Author
Dr. Sheri McIntosh is a family dentist dedicated to helping her patients get the care they need as affordably as possible. She and her staff know that insurance is difficult to navigate and are always available to help people use their benefits to their advantage. If you have any questions about dental insurance, she can be reached through her website.