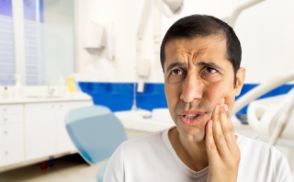 The symptoms from a toothache can vary from person to person. But one commonality people experience is wanting to get out of pain ASAP. Especially if the discomfort is so bad that you can't eat, sleep or go to work. If you have a toothache, the first thing you should do is call an emergency dentist. But that doesn't mean you have to stay in pain until your appointment! Keep reading to learn about common symptoms from toothaches and get some helpful tips for staying comfortable while you're waiting to be seen.
Common Symptoms of a Toothache
The root cause of a toothache is an irritated, inflamed or infected nerve in the center of a tooth. Toothaches can range from mild to severe and are often the result of cavities, trauma, or fractures. Here are some of the most common symptoms you may notice, all of which are your body's way of telling you there's a problem that needs immediate attention:
Dull, sharp, or throbbing pain
Facial swelling
Swollen gums or a pimple-like bump on the gums
Fever or headache
A bad taste in the mouth
Pain Relief From a Toothache
Again, the first thing you need to do is call an emergency dentist to schedule the first available appointment. From there, there are several at-home remedies you can use for pain relief, including: 
Over-the-counter pain reliever – Start by taking over-the-counter pain reliever, as directed. Ibuprofen is often a great choice for dental pain, but it does thin the blood (along with other NSAIDs such as aspirin and naproxen). If you already take a prescription blood thinner such as Warfarin, take an alternative such as acetaminophen instead.
Apply a cold compress – Applying a cold compress or ice pack to the outside of your face will reduce inflammation and pain. To avoid irritating your skin, use it for 15 minutes at a time and repeat as needed until your visit.
Elevation – If you're trying to sleep with a toothache, prop yourself up on 2-3 pillows. This prevents blood from traveling to your head where it can increase pain and inflammation.
Also, keep in mind that toothaches are often a sign of infection, which can spread to other areas and become dangerous if left untreated. That means that dental care is still crucial, even if your pain goes away. With that said, these remedies are a great way to help you stay comfortable until your dental appointment.
About the Author
Dr. Sheri McIntosh is a general and emergency dentist and graduate of the University of Texas Health Science Center at San Antonio. With more than 15 years of experience, the latest technology, and a gentle touch, she can quickly diagnose and treat any type of tooth pain. If you're experiencing a toothache or have any questions, she can be reached via her website.