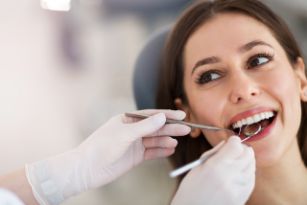 Today, more and more adults are investing in their oral health and appearance with orthodontic treatment. In fact, the American Association of Orthodontists reported that the number of adults in braces increased by 40% between 1989 and 2012. But what about Invisalign? Busy professionals are understandably hesitant to spend years in brackets and wires and are commonly interested in this clear alternative to braces. Keep reading to find out why a dentist may recommend Invisalign for adults and how the process works!
Is Invisalign a Good Choice For Adults?
Absolutely. In some ways, adults have an even greater advantage than teens when it comes to Invisalign. This is because they're usually more committed to wearing their trays for the recommended 20-22 hours per day, so it's more likely that they'll get their results on time. Also, adults generally do better with brushing and flossing, so they have fewer cavities and gum problems than teens often face after braces.
Invisalign is perfect for many of the same alignment issues as braces, including crowding, gaps, overbites, underbites, cross bites and more. And it's an especially great option for minor problems, or for adults who wore braces as a teen but didn't wear their retainers.
The average treatment time for Invisalign is 12-18 months (as opposed to 18-24 months for braces). But people who are correcting only mild issues may be done in even less time!
How Does Invisalign Work?
Once you've had a consultation to make sure Invisalign is right for you, it takes just a couple of visits to get started. Here's what you can expect:
First, detailed images and digital impressions are taken to send to the Invisalign lab where your trays will be custom-made.
You'll return for a second visit about 3 weeks later to pick up your first set of aligner trays. In many cases, small, clear "attachments" need to be placed on your teeth to anchor your trays into place (these are temporary and will be removed at the end of treatment).
Next, you'll learn how to wear and maintain your aligners. You'll also have a chance to ask any questions before leaving with your first set of trays in.
You'll wear your aligners at least 20-22 hours per day and switch to a new pair about every 2 weeks. You'll also come in for progress visits every 4-8 weeks until your final results are achieved.
Everyone deserves the self-confidence and good oral health that comes from orthodontic treatment. And since your teeth can be moved at any age, it's never too late to improve your smile!
About the Author
Dr. Sheri McIntosh is a general and cosmetic dentist with more than 15 years of experience. She enjoys working with patients of all ages and has used Invisalign to help countless adults achieve the healthy, straight smile they've always wanted. If you'd like to know more about Invisalign or have any questions, you can contact her via her website.