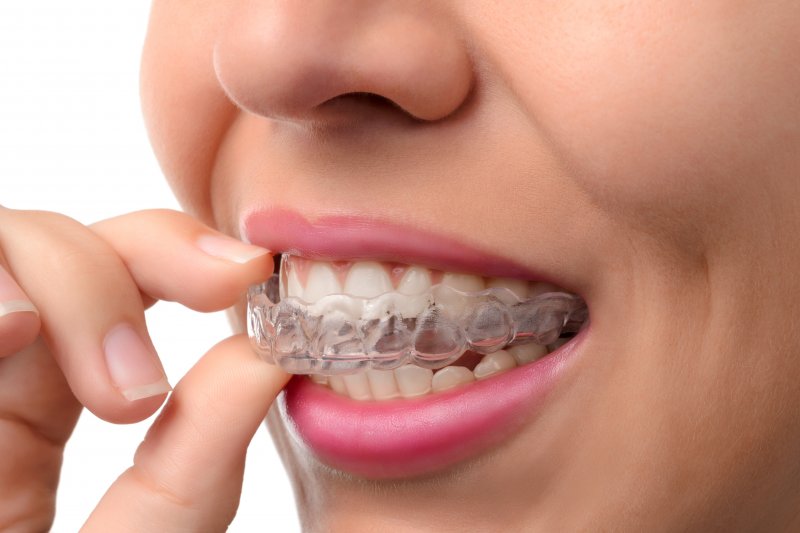 Are you a busy professional who is constantly meeting with clients, giving presentations, or leading a team of eager employees? Do you teach a classroom full of children or work alongside medical colleagues who aspire to treat and improve the lives of others? If your crooked, overcrowded, or misaligned smile is keeping you from fully embracing your potential opportunities, you'll be pleased to know you can benefit from Invisalign's discreet and fast-acting clear aligners. And although anyone in contact with others day-in and day-out can find these trays to be an ideal solution, a dentist in Fort Worth shares how Invisalign is often most beneficial when working in certain professions.
Why Choose Invisalign?
If you know much about Invisalign, you understand there are major differences between these clear aligners and your traditional metal brackets and wires. Apart from these unique trays being made of a clear plastic that gently applies appropriate pressure to your teeth to keep them moving in the right direction, they are crafted using what is known as SmartTrack material that ensures a more controlled and comfortable fit and offers more predictable results.
As one of the most popular orthodontic alternatives available on the market, many individuals, both teens and adults, are turning to dentists and orthodontists to inquire about eligibility for treatment. Capable of addressing overcrowded, crooked, or gapped teeth as well as overbites, underbites, crossbites, and open bites, Invisalign in Fort Worth offers the ideal solution if you want to avoid compromising your daily appearance.  
How It Benefits a Working Professional
If you are a working professional whose job requires meeting with clients regularly or puts you in front of others on a daily basis, you cannot go wrong in choosing Invisalign. While there are many factors that ultimately determine your eligibility for Invisalign, it's important to discuss with your dentist in Fort Worth why you want to pursue this method of treatment. If your profession requires that you regularly engage in public speaking, lead meetings, or present to various clients, Invisalign offers you the ability to maintain a professional appearance while improving the health and look of your smile. 
In addition to the clear and discreet look, these trays are designed to be removed before eating or drinking. Have a big presentation coming up? Not to worry! You can easily remove your trays while speaking in front of hundreds of colleagues. You just want to make sure you re-insert them immediately following your presentation.
Clear aligners offer what many other orthodontic treatments cannot – a clearer, faster way to straighten teeth. If you're ready to don your favorite suit and start realigning your smile, talk to your dentist about the possibility of Invisalign.
About the Author
Dr. Sheri McIntosh offers a conservative, patient-focused approach at Distinguished Dental. As a trusted dentist in Fort Worth, TX, she earned her Doctor of Dental Surgery degree in 2004 from the University of Texas Health Science Center at San Antonio. Opting to pursue continuing education courses and training, she and her team work to stay up to date on the latest changes and advancements in dentistry. Providing patients with an alternative to traditional braces, Dr. McIntosh offers Invisalign clear aligners to needing a more subtle and faster way to achieve long-lasting results. If you are interested in straightening your smile with Invisalign, visit our website or call (817) 337-8300.