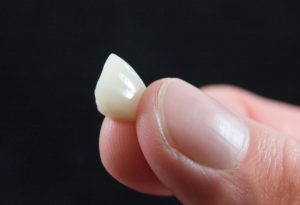 Dental crowns are one of the most widely used treatments in restorative dentistry to preserve damaged teeth. Now, they are made of all-ceramic material to look natural while restoring the health and function of a tooth. Although they aren't made of metal, they are known to last for decades with the right care. Unfortunately, a lost dental crown isn't that uncommon. Believe it or not, it's actually a dental emergency. It isn't as pressing as a traumatic injury, like a knocked-out tooth, but you still need to see a dentist soon. Don't panic until your appointment. Here's what to do if you've lost a crown.
First Aid for Lost Dental Crown
According to published research by Pjetursson, 94% of crowns last for 5 years while 90% thrive for a decade or longer. The lifespan of a crown relies on various factors, like your oral hygiene. Even with the proper care, a crown can still lose its bond with your tooth over time. Whether it was dislodged by food or just fell out, here's how to handle the situation to protect your tooth:
1. Call Your Emergency Dentist
Even if you aren't in any pain, you need to call your emergency dentist right away. Your tooth was reshaped to allow the crown to fit over it. As a result, its integrity is compromised without the restoration. The longer you wait to have it treated, the more likely it can break, fracture, or decay.
2. Examine the Crown
If your crown is fully functional and doesn't appear to be damaged, you may be able to place it back over the tooth until your appointment. Carefully rinse the crown with water, brush your teeth, and floss before placing it back in your mouth. Applying a small dab of toothpaste can create suction to help hold it in place.
3. Skip Home Remedies
You might find several DIY methods online to repair a lost crown; however, it's best to leave the job to the professionals. SuperGlue, New Skin, and OTC repair kits can do more harm than good. You might unknowingly trap bacteria underneath the crown, which can lead to an infection.
4. Keep Your Tooth Clean
You'll want to avoid chewing with your tooth until after it has been repaired and be careful you don't swallow it while eating. You will also need to step up your oral hygiene routine to reduce bacteria that can harm your vulnerable tooth.
Contact Your Dentist Immediately
If you've lost a dental crown, don't wait to contact your dentist. They can quickly fix your tooth, so you can get back to more important matters.
About Dr. Sheri McIntosh
Dr. McIntosh earned her dental degree at the University of Texas Health Center at San Antonio and has continued her training to provide the latest procedures and techniques. She embraces state-of-the-art technology to deliver superior care, like CEREC technology. If you need a new dental crown, contact our office today to enjoy same-day dentistry.