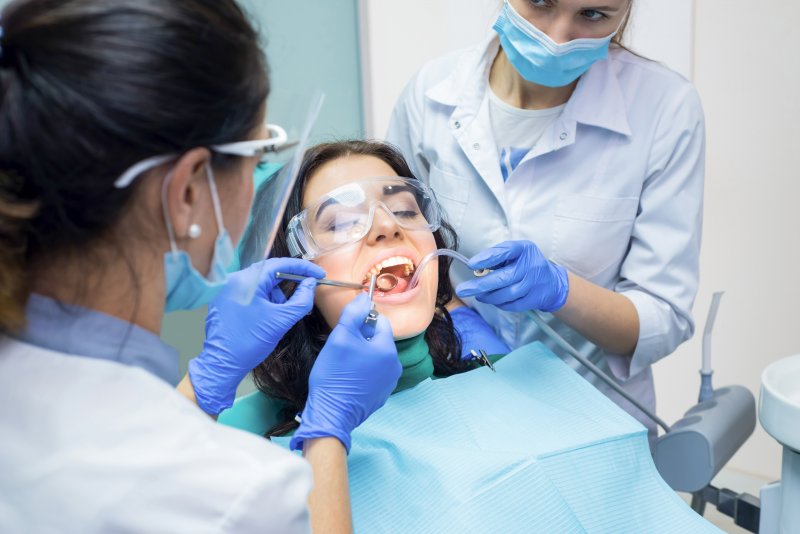 Taking care of a dental implant in the days after surgery is critical to its long-term success. Your mouth needs time to heal, and your bone needs time to secure the dental implant in place. Thankfully, the entire process is fairly simple, and it shouldn't be long before you're back at 100%. Here are a few ways you can make sure the recovery process goes smoothly.
Keep the Area Clean
Your first priority during recovery should be to make sure that your implant is kept clean and free from bacteria. You should try and keep up your dental hygiene routine for your natural teeth, which includes brushing and flossing them as normal. Refrain from brushing the implant area for the first few days, but once it's healed up a bit you should gently scrub it as well. Rinsing with saltwater is also a great way to keep the surgical wound clean and disinfected.
Be Gentle
Of course, if you want to make sure that the area around your dental implant heals properly, you need to avoid doing any damage in the days after surgery. When you get home, your mouth will still be numb, so it's recommended that you avoid eating or drinking anything hot immediately after surgery. If you can't feel anything, it's possible that you could burn your mouth without noticing.
Next, you need to take it easy for a few days. Try and avoid strenuous exercise, as an increase in blood flow can cause bleeding at the implant site. Tobacco and vaping can also impede the healing process, so avoiding these products is crucial to the long-term success of your dental implant.
Try and Relax
While the procedure itself is going to be completely painless, there could be a little bit of tenderness during recovery. This shouldn't be very severe, so if you feel like the stitches or the implant site are exceptionally painful, talk to your dentist to make sure everything's okay. Otherwise, you should get by just fine with over-the-counter pain medicine.
If something worries you during the healing process, don't be afraid to reach out to your provider. While dental implants have an incredibly high rate of success, it is possible for there to be issues during recovery. That said, as long as you keep these tips in mind, you won't have anything to worry about.
About the Author
Dr. Sheri McIntosh is an implant dentist who wants all her patients to experience the best that dentistry has to offer. That was her goal when she opened Distinguished Dental in 2011, and since then she's provided hundreds of patients with what she calls the "Distinguished Dental Experience." She's also an expert in dental implants, which is how she manages to place and restore them entirely in-office. Dr. McIntosh received her Doctor of Dental Surgery from the University of Texas Health Science Center at San Antonio. If you have any questions about taking care of your dental implants, she can be reached at her website or by phone at (817) 337-8300.