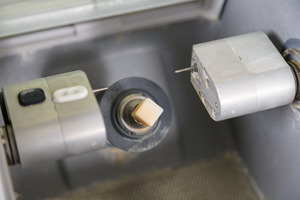 Are you not looking forward to having to wear a temporary crown for weeks while waiting for a permanent one to be made? With the CEREC system, you won't have to; your dentist will be able to create and place your crown in just one visit! But how long can you expect this visit to be? Here's everything you need to know about the CEREC process.
What are the Steps for Making a CEREC Crown?
While a traditional crown is typically crafted at a dental laboratory, a CEREC crown can be made at your dentist's office. Here's what happens during the process:
The tooth receiving the crown will be prepared.
Your dentist will capture pictures of your smile with a small camera.
The pictures will be combined into a digital impression that can be viewed from any angle.
Using the digital impression, the CEREC machine will design your crown according to the exact specifications of the tooth it will be placed on.
The crown will be fabricated out of a block of porcelain.
Your dentist will take the crown and shade it so that it matches your natural teeth.
Finally, the crown will be attached to your tooth using bonding material.
So Exactly How Long Will the CEREC Process Take?
Taking every step into account, it will typically take around two hours to complete the CEREC process. You won't have to worry about waiting too long for your crown to be made because everything will be done over the course of a single appointment.
Of course, not every treatment is exactly the same. There are a few variables that could affect the length of the process. For example, your dentist may need to take a little extra time to make sure the crown fits correctly. Check your schedule carefully to make sure that there's plenty of room for your CEREC appointment even if it runs a little longer than expected.
What are the Benefits of CEREC Crowns?
Choosing a CEREC crown over a traditional one means you will be able to enjoy these benefits:
You can avoid having to visit your dentist's office multiple times.
You can completely eliminate the need for a temporary restoration.
Despite being made quickly, CEREC crowns offer the same level of strength and durability that you would expect from a traditional crown.
Being made out of porcelain means that CEREC crowns are able to blend in with the rest of your smile. They also resist stains very well.
Are you interested in getting a CEREC crown? Talk to your dentist today to learn more about the process and how it could end up saving you a lot of time in the long run.
About the Author
Dr. Sheri McIntosh is proud to bring conservative, patient-focused dental care to Fort Worth at her practice, Distinguished Dental. She earned her Doctor of Dental Surgery from the University of Texas Health Science Center at San Antonio. She's able to place same-day dental crowns using the CEREC system. To schedule a consultation with Dr. McIntosh, visit her website or call (817) 337-8300.