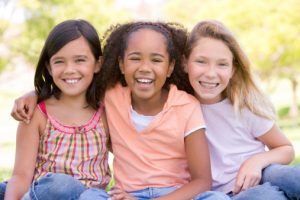 Distinguished Dental – Sheri McIntosh DDS of Keller, TX offers all patients a wide-range of dental care services with top-tier treatment and amenities. Your kids have likely been home all summer; but with fall just around the corner, now is a great time to bring your family in for a back to school checkup. Call now as appointments toward the end of the summer fill quickly, and we want to offer you the best range of options to get your child's smile ready to go back to school.

Keller Children's Dentist Checkups and Prevention
Many patients we treat who have dental anxiety point to a traumatic childhood dental experience as the reason for their fear. At our dental practice, we strive to ensure that all patients have a great experience, and that starts with our young patients. Each visit to our practice will help children build confidence in their ability to care for their teeth by educating them about proper at-home care and encouraging them to continue to improve their cleaning practices and eating habits to improve their smiles.
Before your kids head back to school, let us help them prepare for the coming year with a back to school checkup and cleaning. Our talented dental team will help your children perfect their smiles, learn to love the dentist, and protect their growing teeth from tooth decay. We offer the same superior care for our young patients that we do for adults, but we include a more thorough educational and consultation portion at each appointment, and we offer treatments like dental sealants to protect teeth from decay and fluoride treatments to help speed remineralization of damaged enamel. We can also fit your active child with a sports guard for summer fun or for school year sporting events.
Keller Dental Office for Summer Emergencies
With summer time fun and adventure comes potential hazards. The summer months often show a significant increase in the number of children who need emergency dental care. Swimming can lead to dental trauma if the little swimmers are not paying enough attention to the sides of the pool and have a collision. Playing outdoor sports like soccer and baseball can lead to traumatic injury or tooth loss. Whatever your emergency, our office is dedicated to providing same-day emergency dental care whenever possible. In case of a dental emergency, call us immediately so that we can help you take the stress out of the dental emergency by providing our distinguished level of patient care.
Contact Distinguished Dental Today
Our friendly, welcoming team is ready to provide optimal care for your children. Before your kids return to school, make sure they're going back with the healthiest smile possible. Schedule an appointment with Distinguished Dental. We're looking forward to seeing you and your family in our Keller, TX practice this summer, and we welcome patients from surrounding communities to make the drive. We're worth the trip from Watauga, Colleyville, Southlake, and Roanoke.