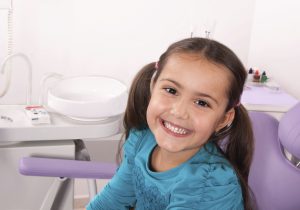 The short answer to that question is, "yes," according to Dr. Sheri McIntosh, Keller children's dentist at Distinguished Dental. Now, let's consider why treating tooth decay in children is important and how you can help your children avoid cavities in the first place.

Cavities—whether in children or adults—happen as a result of bacterial infection. These bacteria feed on the sugars in foods and beverages and produce acids that literally eat away at the structure of a tooth, depleting calcium. Once this area of reduced calcium enlarges, the surface of the tooth collapses and there's a cavity. This bacterial infection can also spread within the immediate tooth, which can become painful, or it can infect adjacent teeth. Moreover, healthy baby teeth allow your child to eat and speak, and they are important place holders for their eventual permanent teeth. Thus, the need to fill a child's cavity is imperative.
If your child needs a filling, Keller dentist Dr. McIntosh will likely recommend a tooth-colored composite filling that will be shaded to blend perfectly with your child's existing tooth. And while a tooth-colored filling requires less tooth prep than a silver-colored amalgam filling, some drilling will still probably be necessary. Dr. McIntosh and her team are experts at making young children feel completely comfortable while at the dentist, so you and your child need not worry.
Preventing Children's Cavities with the Family Dentist Keller Trusts
While we love to see you and your child, we'd rather not see you because he or she has a cavity! With this in mind, Dr. McIntosh would like to offer the following tips that will help your children avoid tooth decay in the first place:
Don't share your spoon or toothbrush with your child. Believe it or not, babies are not born with harmful bacteria in their mouths. Rather, the bacteria is transferred—usually from the mother's mouth—when you share utensils.
Clean your baby's gums with a damp washcloth after every feeding, and start brushing when that first pearly white tooth appears.
Avoid putting your baby to sleep with a bottle in her mouth.
Supervise children's brushing until they are at least seven or eight years old. Young children need only use a small amount of toothpaste—about the size of a pea. And be sure to use a fluoride toothpaste that is approved for children by the American Dental Association.
Limit the number of snacks that you give your children, especially sweet snacks, such as candy, and starchy carbs, like potato chips, crackers and cereal.
Limit sugary drinks, too, including fruit juice and soda.
If your kids drink bottled water, or if your tap water is not fluoridated, then ask Dr. McIntosh about fluoride supplements.
Call Our Office Today
If your child needs a dental checkup, or if you've noticed a chalky white or brown spot on one of your child's teeth, then schedule an appointment at Distinguished Dental – Sheri McIntosh DDS in Keller, TX. Our practice welcomes patients from surrounding areas including Roanoke, Trophy Club, Haltom City, Fort Worth, Westlake, and Southlake.