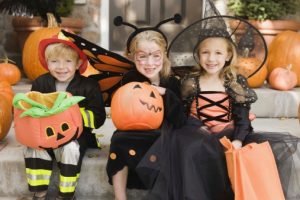 Let's be honest—no one, especially a child, needs all of the candy he or she manages to collect on Halloween. Whether the size of a candy bucket is small, medium or large, there's too much candy inside! But dressing up and going trick-or-treating is a Halloween tradition. So what can you do to make it a healthy tradition? Dr. Sheri McIntosh and the team at Distinguished Dental in Fort Worth, TX, have some ideas that will make this Halloween fun, safe, and healthy.

But first you might be thinking to yourself that Halloween only comes once a year, so what's the problem with some extra candy? Your Fort Worth children's dentist sees a rise in tooth trouble each year around Halloween time. For example, if sticky candy lingers on your child's tooth or gets trapped in between teeth, then the bacteria that cause tooth decay can linger, too. Cavities are caused by the bacteria that normally live in our mouths. These bacteria live on food particles in the mouth and produce acids as a by-product. These acids in turn lead to tooth decay.
Another problem Dr. McIntosh sees more of around Halloween is cracked or even broken teeth. Those hard candies are often too hard. Many times children either don't know to suck on a hard candy or don't have the patience to wait for a hard candy to dissolve in their mouths.
Finally, although there isn't a direct link between eating too much sugar and type 2 diabetes, there is a connection between sugar consumption and weight gain, which can increase the risk of developing the disease.
Alternatives to Candy from the Family Dentist Fort Worth Loves
Hand out healthy snacks, such as cheese sticks, pumpkin seeds, granola bars and crackers. There are plenty of fun foods that can take the place of Halloween candy. Get creative and see what you can find at your neighborhood grocer.
Temporary tattoos are all the rage among school-age children. You could be the favorite Halloween house if you hand out spooky tattoos.
Although you may not think the kids need another party favor, those little toys don't cause cavities. Many stores carry rings, whistles, glow sticks and other creepy trinkets that would make a fun surprise on Halloween night.
Stickers, stickers and more stickers. Craft centers and big box stores sell an assortment of Halloween stickers that feature pumpkins, witches, ghosts and goblins.
Sugar-free gum is a sweet treat that's healthy, too. Moreover, chewing gum increases saliva flow, which helps wash away cavity-causing bacteria.
Call Our Office Today
If you'd like to learn more about cavity prevention for children and the other members of your family, then call Distinguished Dental – Sheri McIntosh DDS, the family dentist that Fort Worth, TX, residents depend on for complete general, restorative and cosmetic dentistry care. Our practice welcomes patients from surrounding areas including Roanoke, Haltom City, Keller, Trophy Club, Westlake, and Southlake.