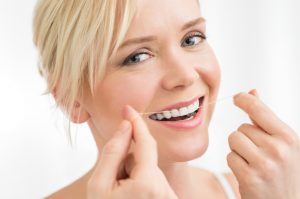 Taking good care of your teeth and your oral health has never been more important, as we now understand that periodontal (gum) disease contributes to other serious health concerns in the body, and vice versa. We may sound like a broken record encouraging you to visit your dentist every six months, or twice per year, but it's because we understand that your oral health affects your overall health and well being. Dr. Sheri McIntosh, your premiere dentist in Keller, wants to offer you some guidelines for optimal oral health.
Switch to an Electric Tooth Brush
Proper brushing technique is critical to maintaining your oral health, and one of the best ways to achieve great technique is to let an electric toothbrush do the work for you. Hygienists report that patients who use an electric brush have less plaque build up than patients who brush their teeth manually. Your electric brush even times your session to ensure that you're achieving the recommended two minutes of brushing. An electric toothbrush is small investment to make in your overall health.
Don't Forget to Floss
Flossing daily is important in order to remove plaque buildup and food particles from in between your teeth. Did you know that you can actually get cavities in between your teeth? Not only does it remove plaque, it also helps to promote strong healthy gums. Don't forget to floss – it really doesn't add that much time to your daily routine.
Be Aware of Bruxism
Bruxism, otherwise known as teeth grinding, can cause a host of problems at night while you sleep. Clenching and grinding your teeth at night can leave you with a tender jaw or painful headaches, not to mention the damage and wear it causes to your teeth. Dr. McIntosh can determine if bruxism is a problem for you at your regular checkups, and she may recommend that you wear a night guard during the night while you sleep.
Night guards fit much like a retainer and they're comfortable to wear. They'll help relax your muscles, while also protecting your teeth from the excessive wear and damage that bruxism can cause.
At Distinguished Dental, our goal is to be your life-long partners in helping you achieve and maintain optimum oral health. We do this by building relationships with our patients, listening to their needs and concerns, and offering them a distinguished patient experience every time they visit that exceeds their expectations.
We know you'll appreciate the differences you experience when you work with us! Contact our office today to schedule your next appointment.