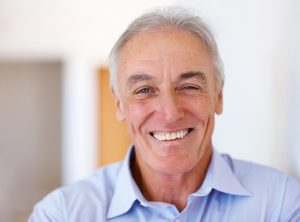 Congratulations! You've made the decision to restore your oral health and your smile by getting dentures, and what a great investment to make in yourself! Now you need to know the best ways to take care of your investment, so you can make the most of your new smile and ensure its longevity. Dr. Sheri McIntosh and her Distinguished Dental team have some helpful tips and tricks on how to keep your dentures in Keller clean.
What is a Denture?
In order to best care for your denture, it's important to have an understanding of it first. Your denture is typically made of acrylic, porcelain, or a combination of the two materials. Dentures rely on suction and a snug fit over your jawbone and palate to stay in place. This means that there is material that covers your palate as well, which will also need scrubbing and cleaning.
Brushing Your Denture
You should brush your denture every night just like your natural teeth, and it's important that you have the right tools. There are specially made denture brushes that have softer bristles, so they don't scratch the acrylic surface of your denture. Scratches to your denture can mar its appearance and allow bacteria into grooves, which can lead to gum inflammation or chronic bad breath.
A denture brush is specially designed with two heads to conform better to the shape of your denture. Be sure to take the time to clean not only the front and aesthetic part of your denture, but also the palate where food particles can also get stuck. You may spend more than two minutes on this task, but the benefits of a clean and fresh denture are worth it! You should also brush your mouth and gums with a regular toothbrush to remove bacteria build up.
Soaking Your Denture
You may also want to soak your denture regularly in an ADA (American Dental Association) approved solution. This also helps to remove food particles and keep your denture fresh, however be sure to thoroughly rinse any residue from your denture after soaking.
Regular Dental Visits
You might've thought that since you have a denture you wouldn't have to visit the dentist – wrong! Dr. McIntosh will want to give you a routine checkup at least once a year to ensure that your mouth is healthy and your denture is fitting properly. Dentures have to be relined every now and then to update your snug fit.
Contact Distinguished Dental
We want you to make the most of your new smile! Feel free to contact our office with any questions you may have about your denture or to schedule an examination with Dr. McIntosh.