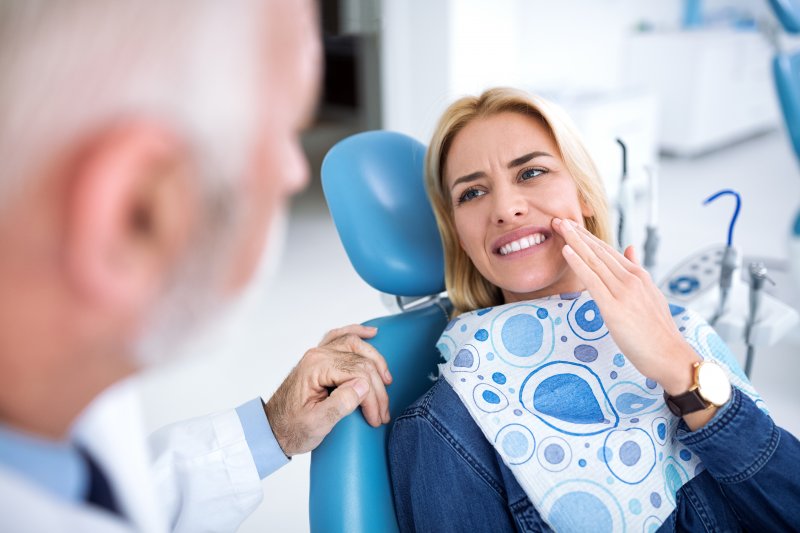 Nearly a year ago, our world was drastically changed as the novel COVID-19 virus spread into a global pandemic. In response, the American Dental Association (ADA) recommended that dental offices close, with the exception of urgent dental care. Although this change was only temporary, the effects are evident all these months later with cases of cracked teeth, bruxism, and severe decay skyrocketing. Keep reading to learn more about the link between dental emergencies and COVID as well as how your dentist can help protect your smile.
Why Dental Emergencies Have Spiked Since COVID
Although there hasn't been a specific survey conducted by the ADA at this time, dentists across the U.S. are sharing pandemic-related dental problems that have surfaced since March of 2020. A few of the common issues include:
Forgoing six-month dental checkups and cleanings, which leave the bacteria and plaque in your mouth unattended, wreaking havoc on your teeth and gums.
Switching to remote work has caused many patients to fall out of their normal routine. Unfortunately, a solid oral hygiene regimen is often the first thing to go.
Stress from the tumultuous events of this last year has resulted in an increase of teeth grinding, which can crack, chip, or otherwise damage your teeth significantly.
Wearing masks for extended periods of time has been linked to dry mouth, which increases your risk of tooth decay considerably.
How Your Dentist Can Help Protect Your Smile
Pandemic or not, when it comes to the condition of your oral health, your general dentist is your greatest ally. One of the best ways they can protect your smile is through preventive care, which starts with your biannual dental checkups and cleanings. These visits play a crucial role in warding off decay, cleaning the hard-to-reach areas of your mouth, and preventing dental issues in the future. If one or more of your teeth have sustained a crack, then they can restore both the look and function with a dental crown. If an underlying condition, like teeth grinding, is the root of the problem, then they can create a custom mouthguard for you to wear to protect your teeth from damage. Simply put, they will use their extensive experience and skill to help your smile shine bright again!
Our lives have been flipped upside down in light of the current pandemic, but that doesn't mean your oral health has to suffer. If you haven't visited the dentist in the last six months or are struggling with oral pain, then now is the time to schedule an appointment with your dentist!
About the Author
Distinguished Dental is a result of Dr. Sheri McIntosh's dream of creating a state-of-the-art dental practice centered around old-fashioned values and a patient-driven approach to care. Amid the current pandemic, Dr. McIntosh and our team have taken our already high infection control standard to an entirely new level, implementing over ten new dental safety protocols into our daily routine. Whether you are struggling with tooth pain or are simply overdue for your biannual appointment, visit our website or give us a call at 817-337-8300.