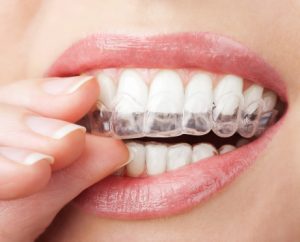 Dr. Sheri McIntosh of Distinguished Dental offers general and cosmetic dentistry for patients in the Fort Worth, TX area. Included in their list of services are the most up-to-date versions of teen and adult orthodontics: Six Month Smiles and Invisalign clear braces.
No two smiles are alike, nor should they be. However, everyone wants their smiles to look straight and bright and to function in as healthy a way as possible.The hassle and aesthetics of lengthy orthodontic treatment may deter some teens and adults, too, from achieving just-right smiles.
New Fort Worth adult orthodontics change alignment and aesthetics.
Enter two outstanding alternatives to traditional metal bracket and wire braces. They're called Six Month Smiles and Invisalign clear aligners. Using one of these two Fort Worth, TX adult orthodontic treatments, you or a loved one could have a new look sooner and more easily than you ever thought possible.
Sheri McIntosh DDS of Distinguished Dental is happy to evaluate patients with a free consultation to see which of these two systems would work best for their individual cases. The two systems have this in common: they are both far less noticeable than traditional metal brackets and wires, and they achieve excellent results in less time.
Here's how Six Month Smiles work
Our Fort Worth, TX dentist carefully evaluates a patient's smile through oral examination, x-rays and other imaging as appropriate. If treatment with Six Month Smileslooks favorable, the patient will begin wearing clear-brackets and tooth-colored titanium wires to gradually move teeth into aesthetically  better positions. Six month Smiles is a cosmetic solution concentrating on improving how teeth look; it is not for complex bite problems.
Patients enjoy that these brackets and wires are less noticeable than traditional, metal braces and that they need to see the dentist only about once a month until completion. Frankly, if an individual starts treatment in the summer, he or she will have that straight, beautiful smile by Christmas!
Here's how Invisalign works
Invisalign employs a series of custom-made, clear plastic, removable aligners. Crafted from high-quality, BPA-free materials, these inventive appliances move teeth into more favorable positions, correcting:
bite problems
gaps
overcrowding
rotated teeth
overlapping teeth
Both older teens and adults enjoy treatment times of 9 to 24 months–much shorter than traditional metal braces. Also, the aligners are virtually invisible and can be removed for eating, hygiene and even special occasions such as weddings and graduations.
Invisalign helps teens, parents and dentists track if patients are wearing the Fort Worth clear braces for the recommended 20 to 22 hours per day. The aligners may be equipped with a special Blue Dot indicator that shows how long the patients are wearing the aligners.
Would you like a new smile in months instead of years?
Why notcome in for a free consultation  with Sheri McIntosh DDS at Distinguished Dental?  They would feel privileged to explain all your Six Month Smiles and Invisalign clear braces. Fort Worth, TX orthodontics couldn't be more available than right now.  Contact the office today for a one-on-one, complementary consultation with Dr. Sheri McIntosh and start down your path to a better smile!